Gehwol Fusskraft Red Dry Rough Skin 75ml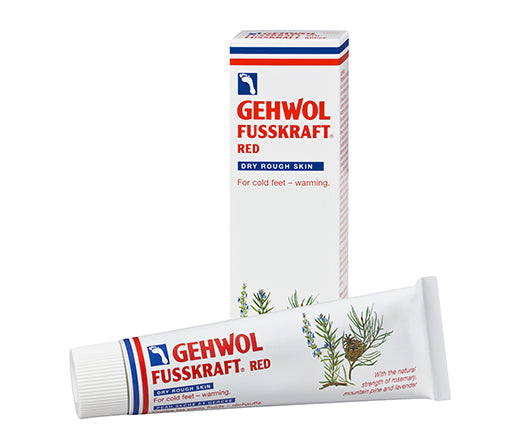 $15.00 $17.00
FREE SHIPPING CANADA WIDE ON QUALIFYING ORDERS
The warming balm for dry skin gives relief for tired, strained and sore feet. Revitalizing camphor, extracts from paprika and ginger, as well as essential oils from rosemary and mountain pine, stimulate circulation and have a warming effect. Especially paprika and ginger stimmulate the heat receptors of the skin; blood vessels are dialated and circulation is boosted. Concentrated, skin-friendly emollients revitalize dry and rough skin, making it soft and smooth again. The climbazole prevents fungal infections of the feet and nails and the farnesol has a lasting deodorizing effect.
To intensify the warming effect, treat your feet with a GEHWOL FUSSKRAFT Warming Bath beforehand.
Ingredients: Oil of rosemary, vitamin E + B complex, extract of paprika, bath lotion base, emollients.
Gluten Free
Suitable for diabetics
Dermatologically tested
Paraben-free