Kerastase Chroma Absolu Discovery Hair Set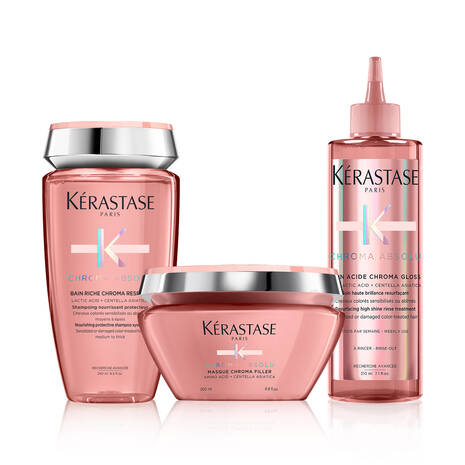 $198.00 $220.00
FREE SHIPPING CANADA WIDE ON QUALIFYING ORDERS
Intensive coloured hair care that fights the three levels of colour-induced damage; hair porosity and breakage, color induced frizz, & color dullness. A tailor-made routine with all the coloured hair essentials you need.
This set includes:
Bain Riche Chroma Respect Shampoo, 250mL:
Bain Riche Chroma Respect is a rich, nourishing and protective sulfate-free shampoo for colored hair. This hydrating shampoo for colored hair cleanses and nourishes hair while preserving hair color from fading away or discoloring.
Protects hair color from stripping or fading away
Transforms hair fiber surface for immediate softness and less color induced frizz
Helps reduce hair fiber porosity for a longer lasting color
Masque Chroma Filler, 200mL:
Masque Chroma Filler is a rich anti-porosity, deep filling masque developed for all types of sensitized or damaged color treated hair, mostly adapted for medium to thick hair.
Penetrates core of fiber to recover health
Soin Acide Chroma Gloss, 210mL:
Soin Acide Chroma Gloss is a resurfacing high shine rinse treatment for damaged hair or color-treated hair.

Hair is 94% more hydrated* and instantly softer
Hair is 96% stronger**, with reduced porosity to help retain color for longer