Kerastase Genesis Anti-Fall Due to Breakage Routine for Thin to Medium Hair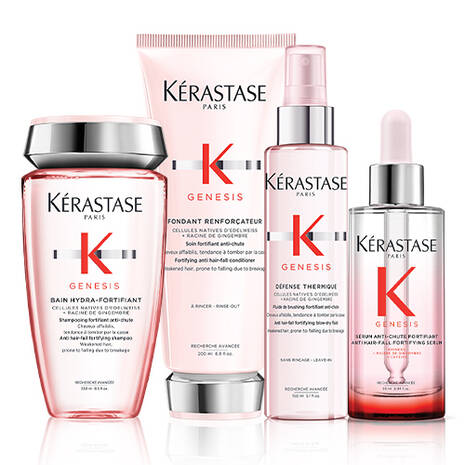 $176.00 $196.00
FREE SHIPPING CANADA WIDE ON QUALIFYING ORDERS
Bestselling full routine for oily, weakened hair prone to falling. Best suited for thin to medium hair seeking strength featuring our #1 Anti-Breakage Scalp Serum.
Set includes:

Bain Hydra-Fortifiant Shampoo, 250ml
Gently removes sebum & pollution particles from scalp and hair.
Prevents risk of hair fall due to breakage.

Silicone-free.
Fondant Renforçateur Conditioner, 200ml
Silicone-free, sulfate-free, and lightweight conditioner prodividing moisture and shine, featuring anti-breakage action & fiber fortification.
Défense Thermique Blow Dry Primer, 150ml
Sulfate-free, detangling and anti-frizz heat protectant, up to 230 degrees celsius.
Anti-Breakage Fortifying Serum, 90ml
A sulfate-free and silicone-free, non-greasy serum to reanchor the fibre at the root.
*Note: products sent in their individual packaging.